Small Deck Ideas | Maximizing Space
When it comes to small outdoor spaces, every square foot counts. Designing a small deck that maximizes functionality and space can transform your limited space into a cozy outdoor oasis. Below are some creative small deck design ideas to enhance and make the most of your space.
Built-in Seating | Small Deck Ideas
Maximize your deck by adding built-in seating or benches along its edges. These multifunctional additions can double as storage units for cushions, outdoor games, or gardening tools. Helping you save valuable space.
Vertical Gardens | Small Deck Ideas
Utilize vertical space with hanging planters, trellises, or wall-mounted gardens. They add a touch of greenery without sacrificing valuable floor space.
Foldable Furniture | Small Deck Ideas
Invest in foldable or stackable furniture that can be easily stored when not in use, allowing you to open up space for other activities.
Narrow Dining Tables | Small Deck Ideas
Opt for a narrow dining table that won't dominate the deck. This provides a cozy spot for outdoor meals without overcrowding the area.
Compact Grills | Small Deck Ideas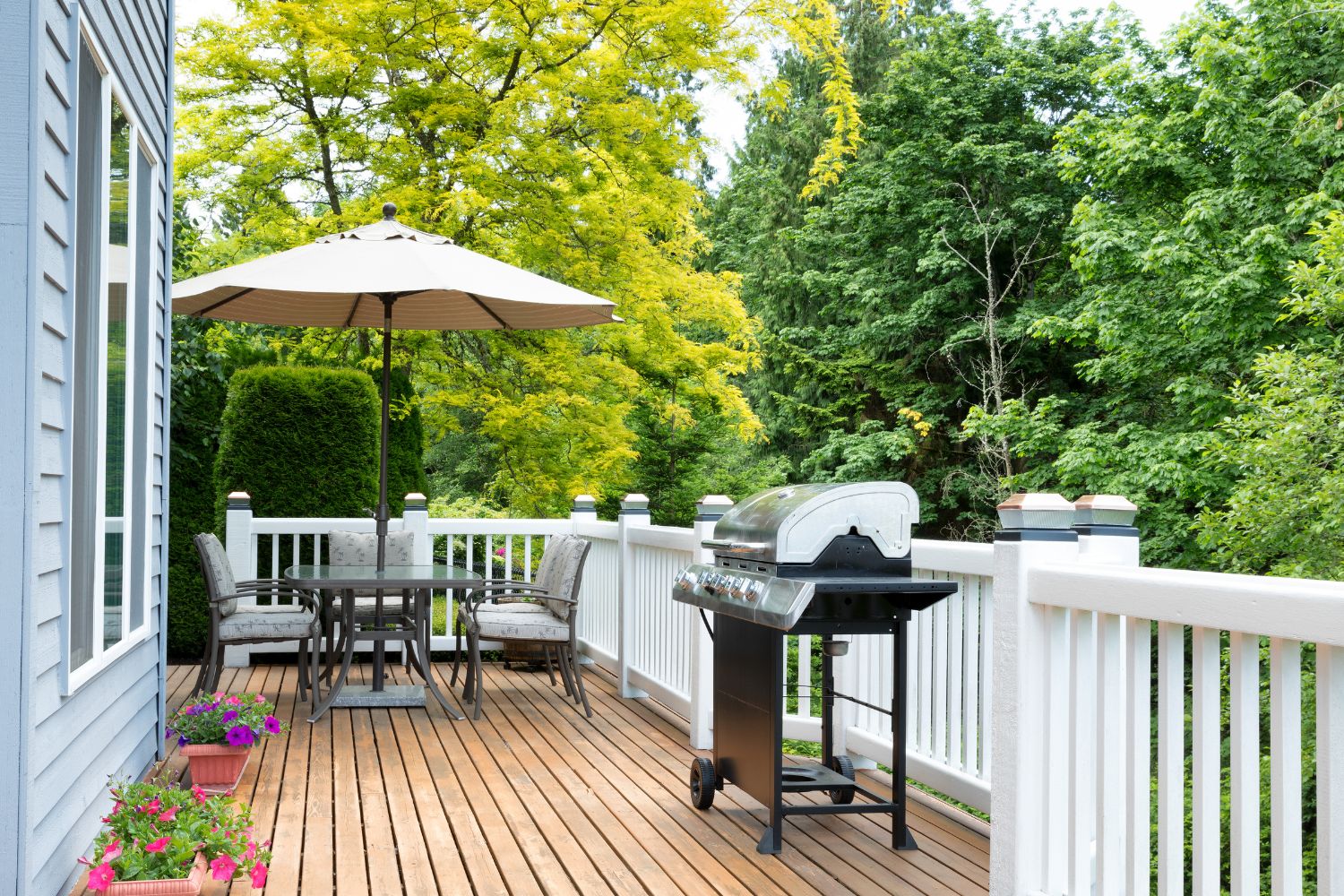 If you love to barbecue, choose a compact grill that fits your deck's dimensions without overwhelming it.
Privacy Screens | Small Deck Ideas
You can use privacy screens such as outdoor curtains, decorative screens, or lattice panels to define your deck's boundaries and create a sense of privacy and seclusion.
Folding Railing Tables | Small Deck Ideas
These kinds of tables attach to the railing of your deck, offering space for drinks, snacks, or small potted plants without taking up deck space.
Under-Deck Storage | Small Deck Ideas
Make use of the area beneath your deck for concealed storage. It's perfect for stashing garden tools, outdoor cushions, or seasonal decor.
Assessing Your Deck's Needs | Small Deck Ideas
Decks and pavilions are valuable outdoor additions to your home, providing spaces for relaxation, entertainment, and enjoying the great outdoors. However, to ensure their safety and longevity, regular assessments and maintenance are essential. Let's discuss the importance of assessing your deck or pavilion and some key aspects to consider.
Structural Integrity
Begin by inspecting the structural integrity of your deck or pavilion. Look for signs of rot, cracks, or loose connections in the wood or other materials. Pay close attention to support beams, posts, and the ledger board that attaches the structure to your home. Any visible damage should be addressed immediately to prevent accidents.
Decking Material
Examine the decking material, whether it's wood, composite, or another type. Check for warping, splintering, or loose boards. If you have a wooden deck, consider staining or sealing it to protect against moisture and UV damage. For composite decks, ensure that the boards are securely fastened.
Railing Safety
Deck and pavilion railings are crucial for safety, especially if your structure is elevated. Inspect them for stability and ensure that balusters are properly spaced to prevent accidents, especially if you have small children or pets.
Fasteners and Hardware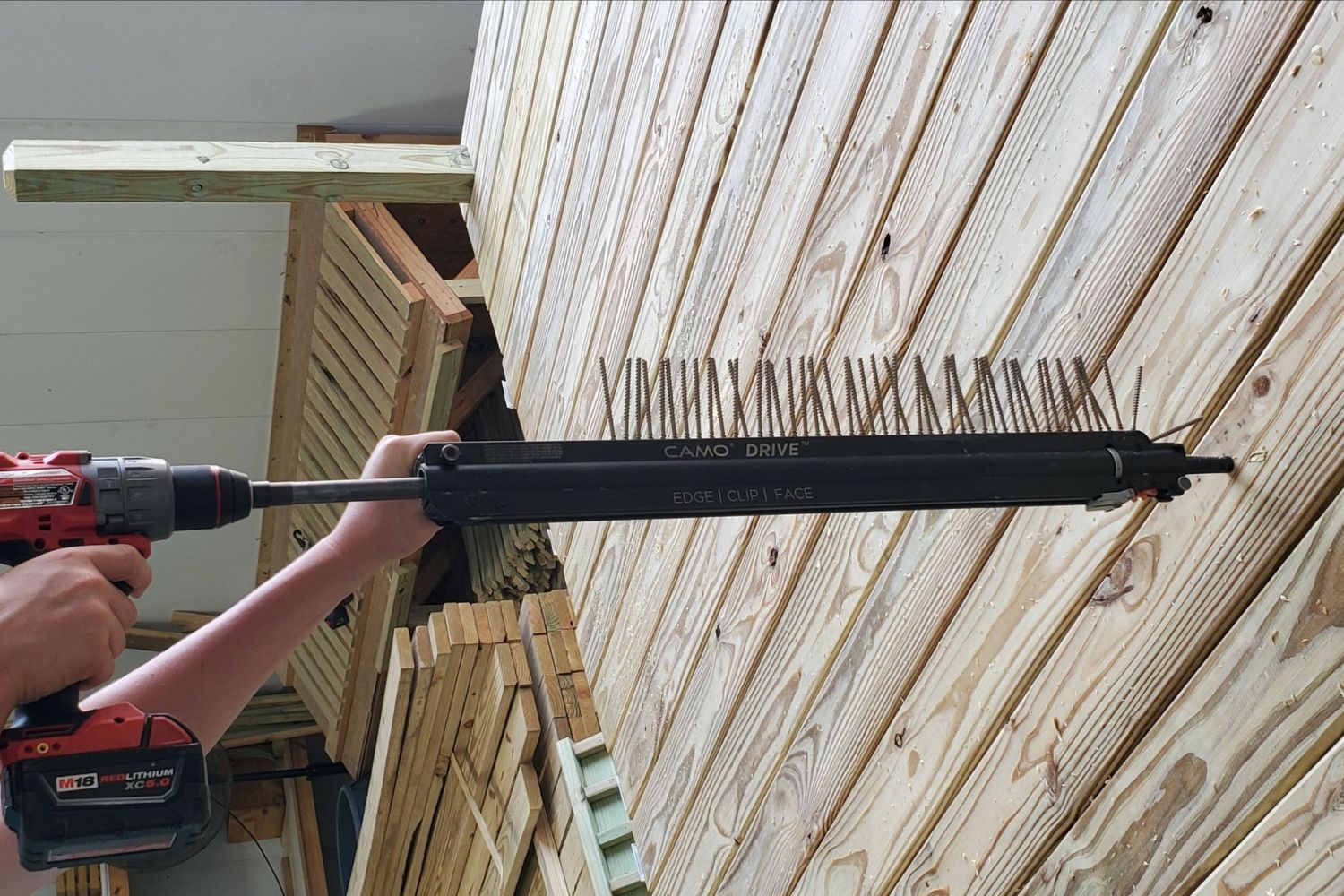 Over time, the fasteners and hardware used in the construction of your deck or pavilion may deteriorate due to exposure to the elements. Inspect screws, nails, and bolts, tightening or replacing any that appear loose or corroded.
Foundation and Footings
Assess the foundation and footings of your structure. Look for signs of sinking, shifting, or settling. Uneven foundations can lead to structural issues, so it's crucial to address these problems promptly.
Cleaning and Maintenance
Regular cleaning and maintenance are essential for preserving the beauty and longevity of your deck or pavilion. Sweep away debris, clean with a mild detergent, and pressure wash if necessary. Apply a fresh coat of sealant or stain to protect against weathering.
Inspect for Pests
Keep an eye out for signs of pests, such as termites or carpenter ants, that can damage the wood. If you notice any infestations, take action immediately to prevent further destruction.
Accessibility and Safety Features
Ensure that your deck or pavilion is easily accessible and equipped with safety features like handrails and lighting for nighttime use. Adding non-slip coatings to walking surfaces can prevent slips and falls.
Deck Upgrades
Now, let's explore a variety of budget-friendly deck upgrades that can give your deck a renewed fresh look without requiring a full rebuild.
Furniture Refresh
Instead of buying new outdoor furniture, replace your existing pieces with new pillows, cushions, or slipcovers. Another option is to give your furniture a new look by applying a coat of spray paint in a color that will complement your deck's aesthetic.
Painting or staining
A fresh new layer of paint or stain can enhance the look of your deck. Paint allows you to experiment with a range of colors to match your style, while staining enhances the natural beauty of wood.
Outdoor Rugs
You can define different areas on your deck by adding outdoor rugs. You have the option to choose from various patterns and colors, allowing you to customize your deck's look easily.
Accessorize
Add accessories such as throw pillows, lanterns, cushions, and other decorative items that suit your style. These small details can make a huge difference in the overall look and feel of your deck.
Explore Our Decks & Pavilions In Tennessee & Kentucky
EshCO portable structures build durable decks and pavilions, where innovation meets outdoor comfort. We build mobile home decks, above-ground pool decks, RV decks, home decks, and pavilions. Our outdoor structures are crafted with high-quality materials, ensuring long-lasting performance. These structures are also designed to withstand exposure to the elements and rigors of outdoor use.
Our decks and pavilions are also crafted for easy setup, we build the deck at our site and deliver it to you. Our structures offer effortless installation, allowing us to set it up wherever you want. If you're seeking a hassle-free outdoor solution, then seek no more than EshCO Portable Structures.
We offer customization options to make sure that your deck or pavilion matches your unique style and preferences. Choose from our range of colors, and finishes to create a space that reflects your personality and enhances your outdoor appearance. Our outdoor structures are designed to thrive in different weather conditions, rain or shine our decks and pavilions will stand sturdy and reliable.
How Can You Use Your Outdoor Deck Or Pavilion
The uses for these outdoor structures are endless, depending on your needs. Our decks and pavilions are suitable for a variety of outdoor activities, from backyard gatherings to outdoor events, even for commercial purposes, our prebuilt decks and pavilions are the ideal solution for any occasion. Below is a list of some of the ways you can utilize your structure:
Outdoor Relaxation

You can create a peaceful retreat in your backyard for unwinding and relaxation. You can customize your deck or pavilion by adding a hammock, lounge chairs, or outdoor sofas to read a book, enjoy the fresh air, or just enjoy the views.

Outdoor Events

Our pavilions are ideal for parties, small weddings, and other outdoor celebrations.
You can host family gatherings, host barbecue parties with friends, and enjoy your outdoor living.

Outdoor Dining

People also use their decks as their dining area. It's a great spot to enjoy meals, whether it's breakfast or a formal dinner.