Portable Pavilions For Sale in North TN & KY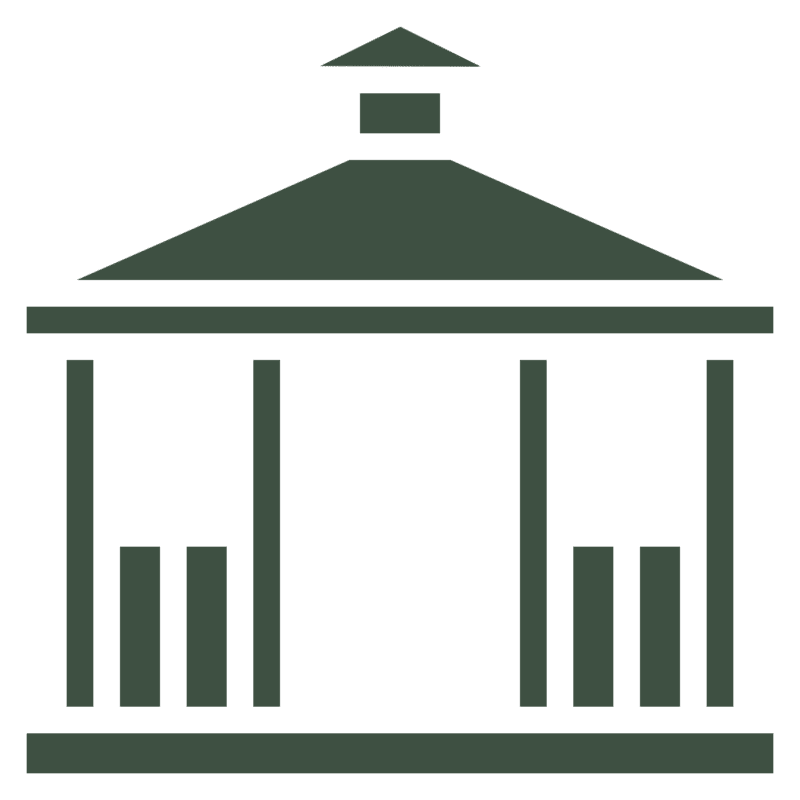 Enjoy the beauty and elegance of a handcrafted outdoor pavilion for your fresh air space. when the weather gets hot in summer or cold in winter, a backyard pavilion can be essential to outdoor space for enjoyment. Our pavilion will provide you with a nice shaded space for different activities. All of our pavilion for sale comes with beauty and stability, and you can customize or design with a brown sealer or black sealer.
We ship backyard pavilions with free delivery for the first 30 miles as well as we cover 100 miles away. These pavilions provide lifetime enjoyment in your backyard with stairs or without stairs; it depends on which one matches your desire and choice.
You might also consider checking out the pool pavilion design for homeowners with a pool that provides comfort and protection from the sun and creates an awesome staging area for guests to dry off and change before heading inside the house.
Worried about the upfront cost of an investment like outdoor pavilions? Do not worry! We offer 36-months rent-to-Own plan on our Pavilions for sale. You can get more details about rent-to-own plans here. OR get pre-qualified by completing the rental application today.
Pavilion For Sale with Brown Sealer
Our wooden pavilion for sale offers a variety of sizes with a brown sealer, making it more natural and nice. It gives you the perfect spot to gather outside or relax with your family and enjoy the summer, even in a cold winter.
If you're looking for a custom sealer color, feel free to contact us to discuss your need. Or give us a call at 615-670-3179!
Pavilion For Sale with Black Sealer
We use treated wood for our pavilions which protects against termites, rot, and fungi. With a black sealer and stable railing, they get more attractive.
Choose our pavilion for sale, which could be perfect for your backyard or larger areas such as schools or parks. We gladly help you with a custom sealer color if you need the one not listed here. Contact us!
Standard Features of EshCo Pavilions for Sale in TN & KY
Pavilion Railing
All of our pavilions come with a protected and stable railing, which includes a 32″ railing for your safety d(spindles and handrails additional fee).
A-Frame Metal Roof
Our pavilion include metal roof which make the roof more resistant again sun light, rain, snow.
Quality Lumber
Our wooden pavilion includes top-grade lumber that is pressure treated to withstand the elements. Your pavilion with wooden lumber will be stable and resistant to any external factors.
Outdoor Pavilion Prices
Custom wood pavilions are available in different styles and sizes, including black sealer or brown sealer. Installing a pavilion on your property, many factor influence the prices range, such as size and roof materials. Our pavilion price options include the following:

• # 1 Graded Pressure Treated Lumber
• 4 x 4 Posts
• A-frame Metal Roof
• Railing
• Wood Floor
• Delivered to your Site
Pavilion For Sale in Tennessee & Kentucky Prices
| | | |
| --- | --- | --- |
| Size | Price | Rent to Own 36/mo |
| 10'x12′ | $4,762 | $220.46 |
| 10'x16′ | $5,871 | $271.83 |
| 12'x12′ | $5,652 | $261.68 |
| 12'x16′ | $6,638 | $307.32 |
Pavilion For Sale near Tennessee & Kentucky Prices
| | | |
| --- | --- | --- |
| Size | Price | Rent to Own 36/mo |
| 12'x20′ | $8,414 | $389.55 |
| 12'x24′ | $9,495 | $439.59 |
| 12'x28′ | $10,880 | $439.59 |
| 12'x32′ | $12,605 | $583,56 |
Pavilions And Decks For Sale
View our prebuilt high-quality structures. Our decks provide a sturdy and stylish surface for all of your outdoor activities while our pavilions offer shelter for any outdoor gatherings with family and loved ones. We offer a variety of sizes and styles on our portable decks and pavilions, ensuring to find the perfect structure for your personal needs. Upgrade your outdoor living space today with our pavilions and decks for sale!
Choose Your Outdoor Pavilion Options
Our pavilion for sale is almost the same for everybody, and we only offer customization options on size and types of sealer (brown, black). Our pavilion price includes the following:
# 1 Graded Pressure Treated Lumber
A-frame Metal Roof, Railing, Wood Floor
Free delivery for the first 30 miles
Pavilion Projects by EshCo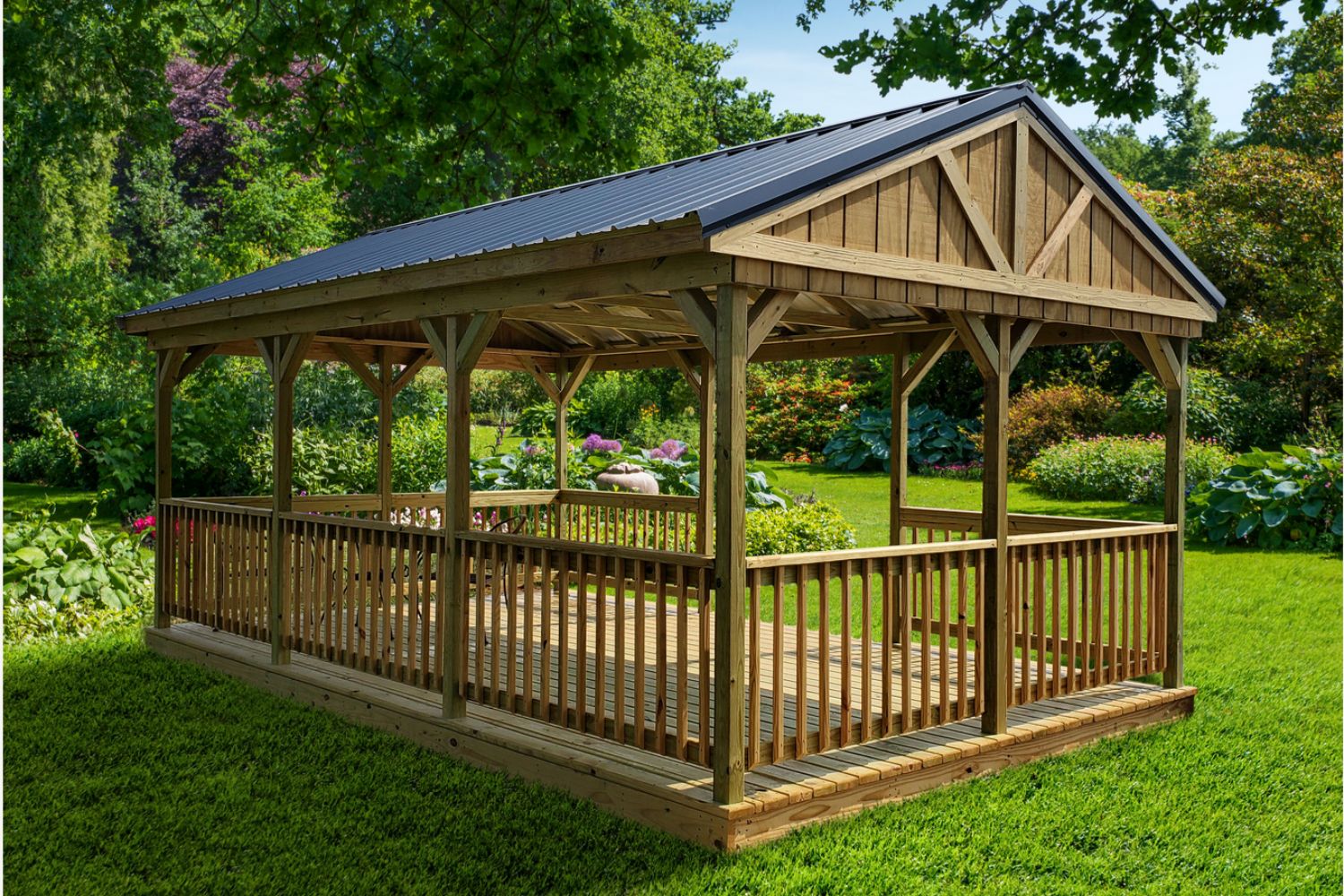 The Esho Plan for Outdoor Pavilions
Get a Quote
Get your Free Customized Quote with options and upgrades for the Pavilion you've been waiting for.
Place the Order
Place your order for the portable pavilion and get into our build schedule.
Delivery Day
When the deposit is received and the unit is ready to ship, we bring the pavilion and install in your property.