Decks & Pavilions Available in Adairville KY
Experience the embrace and enjoyment of outdoor living in Adairville, KY with durable decks from EshCo Deck Builders! Whether you require a deck for a pool, an RV deck, or a deck for your mobile home, we specialize in constructing decks and outdoor pavilions that can be delivered to any location in Adairville KY.
Home Deck Builder In Adairville KY
Every homeowner who seeks a pleasant outdoor space deserves a personalized deck. But we also understand that the process of hiring a contractor and overseeing the on-site construction can be overwhelming.
Eshco offers an exceptional deck-building service in Adairville Kentucky, where we prioritize top-quality materials and meticulous craftsmanship. Our unique approach involves delivering pre-assembled decks directly to your home. This innovative process minimizes yard damage and ensures that you receive the well-built outdoor deck you've always desired. With our efficient service, you'll soon be enjoying family barbecues, socializing with friends, or unwinding on your splendid deck.
RV Deck Builders In Aidairville KY
Have you been thinking about ways to expand your outdoor living space for your RV in Adairville KY? How about integrating an RV deck into your outdoor setup? Setting up an outdoor deck provides convenient access to your vehicle throughout the year. Our customized RV decks will also expand your living area, enabling you to relish the outdoors with utmost comfort. You have the option to enhance your outdoor living space by adding accessories like tables, chairs, and even a grill to create a cozy ambiance.
Our RV decks are prebuilt and come ready to use from day one. EshCo commits to building sturdy designs that will complement your personal style. If you're searching for a deck builder that can deliver a secure and stable platform for your outdoor relaxation, look no further! You've found the perfect match!
Mobile Home Decks In Adairville KY
At EshCo, we understand how stressful it can be to hire a contractor to build your mobile home deck. Avoid the stress of having to worry about damage to your property and consider a portable deck for your mobile home.
Eshco specializes in designing and constructing portable mobile home decks customized to meet your specific requirements. Our decks are built to withstand the elements and provide long-lasting reliability. Rest assured, opting for portability doesn't mean compromising on quality or style! Elevate your outdoor experience with our mobile home decks in Adairville KY.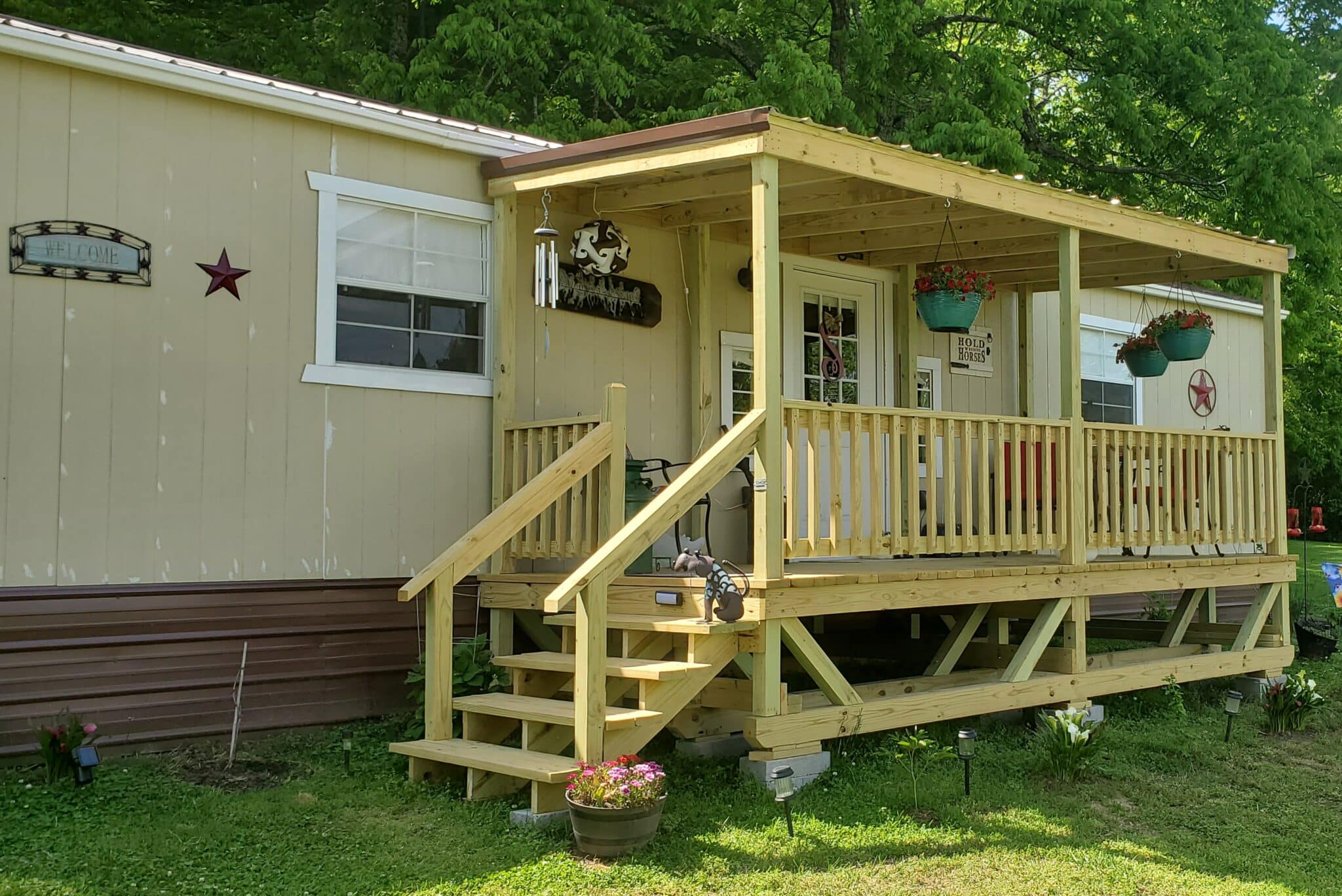 Above-Ground Pool Decks
A well-designed pool deck is a must-have feature for all above-ground pool owners in Adairville KY! EshCo deck builders design pool decks that offer a safe and reliable entry and exit point to your aboveground pool while also providing you with space to relax and supervise swimming activities from your backyard pool deck.
Experience the convenience of our skilled deck builders who will expertly preassemble a high-quality deck and effortlessly install it for you. Embrace the captivating allure of outdoor living as we elevate your outdoor space with our versatile and practical deck solutions. With minimal hassle, you can enjoy the beauty of a well-crafted deck that enhances both the functionality and aesthetics of your outdoor area. Trust our team to deliver exceptional results, creating a space where you can unwind and make lasting memories.
Outdoor Pavilions In Adairville KY
Indulge in the elegance and versatility of our custom-built pavilions for sale, our exquisite structures are designed to create an ideal ambiance for relaxation, gatherings, and embracing the beauty of nature.
With their stylish aesthetics and thoughtful craftsmanship, these backyard pavilions elevate your outdoor living experience to new heights. It is easy to see that our portable pavilions are anything but cheaply built or run-of-the-mill. Experience the customized space you deserve, where you can truly relish in the pleasures of life, whether it be at home or at a gathering.
Our Deck Building Process
Whether you are looking for a portable deck for an RV, a mobile home deck, or a swimming pool deck, you begin getting a deck by choosing the size and style of your preferred deck. The process is very simple, get started today and we will work with you to get your portable deck installed in Tennessee or Kentucky.

We Measure
After a contract has been signed, we come to your location to measure your space to provide you with the right deck.
Delivery Day
Easy delivery and setup which shortens the time spent at your site. Usually in and out within a few short hours.
In-Stock Pavilions And Decks
While we can custom-build your deck or pavilion to meet your specific needs, we also offer in-stock and ready-to-deliver decks and backyard pavilions that can be delivered to your Adairville, KY home or business. Get started today!
Your Pavilion and Deck Builder in Adairville KY
After being in the portable building industry at Esh Utility Buildings for 20 years, Eshco was born to serve TN and KY with high-quality decks that can be installed with little hassle. Our goal at EshCo is not to be the cheapest deck builder in KY. Rather, we strive for quality that gives you options and a very smooth delivery and installation process. Using top-quality lumber and then delivering your portable deck or backyard pavilion pre-built means setup time will be quick and your deck ready to use very soon! We look forward to serving you!
Amos & Mary Esh and family
Other Cities We Serve In Kentucky
Franklin
Transform your outdoor space into a haven of entertainment and relaxation with our portable decks and pavilions in Franklin, KY. Whether you're looking to host gatherings, soak up the sun, or simply just enjoy the natural beauty of your surroundings, we have the outdoor structure for you.
Scottsville
Experience the beauty of the outdoors in your own home with our prebuilt decks and pavilions. We offer customizable options to ensure that you're getting the best out of your outdoor experience. Our decks and pavilions are designed for family picnic enjoyment, unwinding, or grilling with friends and loved ones.
Smiths Grove
Extend your living space with our portable decks and pavilions that seamlessly blend indoors and outdoors. Our pavilions and decks are built to offer shelter from the rain and sun, ensuring year-round enjoyment. Our structures are crafted using high-quality materials ensuring a durable outdoor structure.
Auburn
Be the host with the most with our custom-built decks and pavilions for sale in Auburn, KY. We offer mobile home decks, pool decks, RV decks, and home decks. Our structures offer the perfect setting for family reunions and unforgettable gatherings with family and friends.
Russellville
Are you thinking of turning your outdoor area into a captivating oasis for relaxation, entertainment, and other leisure activities? Look no further than quality decks and pavilions. We specialize in constructing durable outdoor structures that elevate your home and outdoor living experience.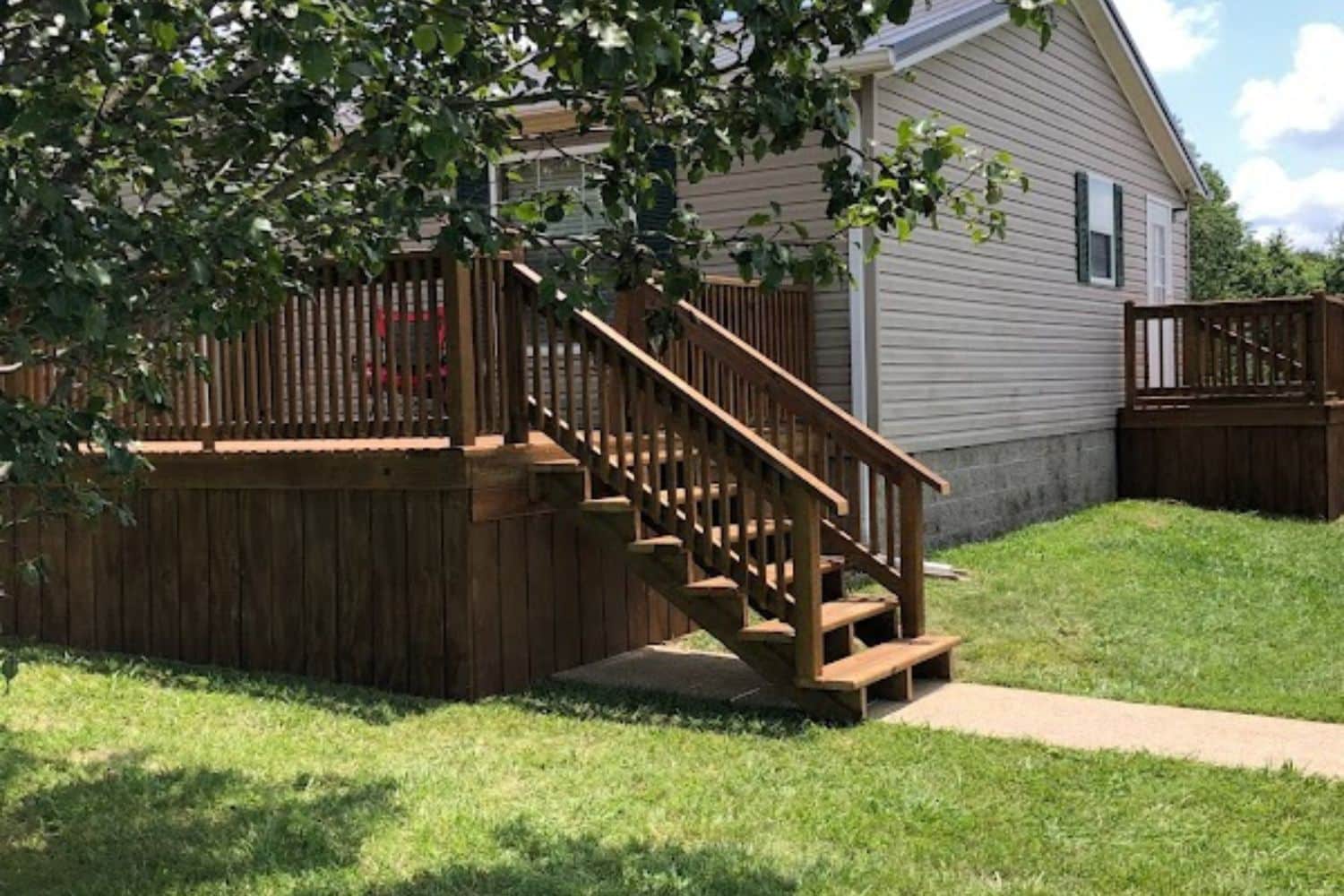 Tompkinsville
Are you envisioning a classic wooden deck or pavilion for shade and shelter? We offer a variety of customizable options to match your preferences and requirements. Our outdoor structures are built to withstand the element, ensuring you enjoy your deck or pavilions for years to come.