Outdoor Decks & Pavilions For Sale In Tompkinsville KY
Are you currently located in Tompkinsville KY and have a genuine desire to embrace outdoor living, but are unsure of how to go about it? To fully savor the joys of the outdoors, having the appropriate space is crucial. This is where we can assist you! Our expertise lies in constructing custom-made decks and outdoor pavilions that can be conveniently delivered to any location in Tompkinsville KY. Whether you require a deck for your pool, an RV deck, or a deck for your mobile home, we are dedicated to crafting the perfect solution for your needs.
Home Decks In Tompkinsville KY
For homeowners looking to create a delightful outdoor space, having a customized deck is an essential element. However, the task of hiring a contractor to handle the construction and on-site installation of the deck can feel overwhelming.
Eshco is dedicated to building decks using top-quality materials, with a strong emphasis on meticulous attention to detail and unmatched quality. Our distinctive approach involves delivering the fully assembled home deck directly to your home in Tompkinsville KY. By adopting this method, we significantly reduce yard damage while fulfilling your long-awaited dream of an outdoor deck. In no time, you'll have a stunning deck where you can host family barbecues, enjoy social gatherings with friends, or simply relax and unwind.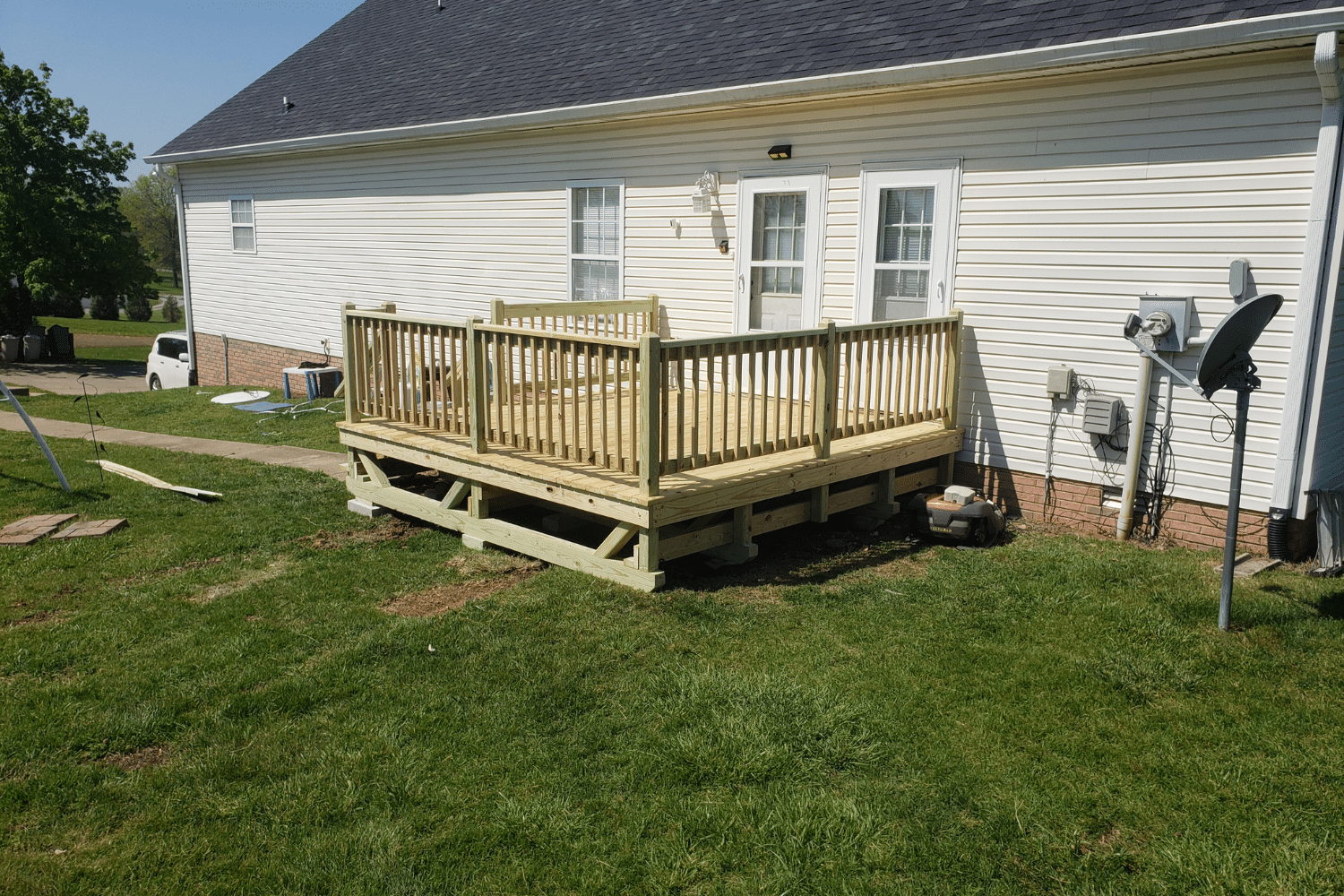 RV Deck Builder In Tompkinsville KY
If you own an RV in Tompkinsville KY, incorporating an RV deck into your outdoor arrangement can offer convenient access to your RV all year round. Our RV decks are meticulously crafted to expand your living space, enabling you to relish the outdoors in utmost comfort. You have the freedom to personalize your outdoor living area with accessories such as tables, chairs, and even a grill, creating a cozy atmosphere that suits your preferences.
Furthermore, our RV decks, skillfully built by EshCo, are not only convenient but also portable, making them readily available for immediate use. We prioritize durability and ensure that each deck is constructed with the utmost commitment to provide a secure and stable platform for your outdoor relaxation. If you've been searching for a deck builder who can deliver on these requirements, look no further! We are here to meet your needs.
Quality Mobile Home Decks In Tompkinsville KY

With the numerous tasks you already have on your plate, the added burden of hiring a contractor to build a deck for your mobile home is the last thing you need. Considering that mobile homes are designed to be portable, why not consider the possibility of a quality portable deck for your mobile home as well? This option provides you with flexibility and convenience, eliminating the hassle of traditional construction.
At Eshco, we specialize in creating and designing an appealing outdoor space for your mobile home, offering custom decks as the ideal solution. Our mobile home decks are meticulously crafted to seamlessly blend with your property, taking into consideration your unique requirements and preferences. Remember, just because it's portable doesn't mean it lacks quality or craftsmanship. We prioritize delivering top-notch results that stand the test of time, even for portable decks.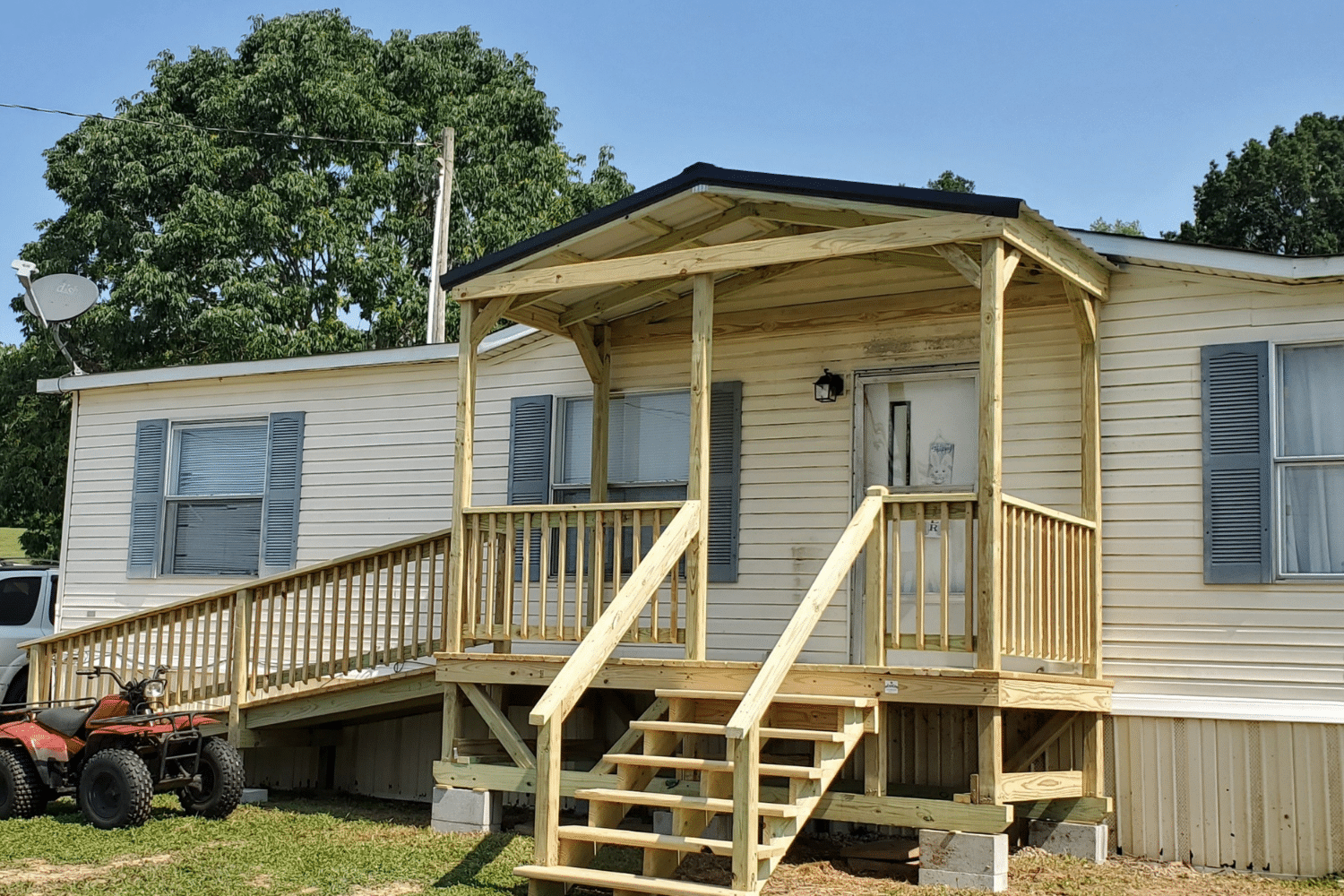 Above-Ground Pool Deck Builders
For those who take pride in owning an above-ground pool in Tompkinsville, KY, having a well-designed pool deck is of utmost importance. At Eshco, we specialize in meticulously crafting pool decks that not only provide a secure and convenient access point to your above-ground pool but also offer a comfortable space for relaxation. Our pool decks are carefully constructed to allow you to oversee swimming activities from the vantage point of your portable pool deck, ensuring you can enjoy your pool to the fullest.
Immerse yourself in the proficiency of our skilled team of deck builders who will expertly preassemble a premium deck and seamlessly install it in your preferred location. Embrace the beauty of outdoor living and elevate your outdoor space with our versatile and functional deck solutions. Experience the transformative power of a well-crafted deck that enhances both the aesthetics and functionality of your outdoor environment.
Pavilions In Tompkinsville KY
Our custom-built pavilions are designed to create the perfect atmosphere for relaxation, social gatherings, and immersing yourself in the natural beauty surrounding you. Our backyard pavilions offer a plethora of benefits that will elevate your overall outdoor living experience. Enjoy the advantages of these versatile structures as they enhance the aesthetics and functionality of your outdoor space, providing a sanctuary for you to unwind and embrace the wonders of nature.
Our portable pavilions are clearly far from being cheaply constructed or ordinary. Each pavilion is meticulously crafted and custom-designed to suit your specific requirements. Whether you need a pavilion for your personal needs or a commercial establishment, we are dedicated to creating the perfect outdoor space for your needs with our pavilions for sale!
Our Deck Building Process
Whether you are looking for a portable deck for an RV, a mobile home deck, or a swimming pool deck, you begin getting a deck by choosing the size and style of your preferred deck. The process is very simple, get started today and we will work with you to get your portable deck installed in Tennessee or Kentucky.

We Measure
After a contract has been signed, we come to your location to measure your space to provide you with the right deck.
Delivery Day
Easy delivery and setup which shortens the time spent at your site. Usually in and out within a few short hours.
In-Stock Pavilions And Decks
While we can custom-build your deck or pavilion to meet your specific needs, we also offer in-stock and ready-to-deliver decks and backyard pavilions that can be delivered to your Tompkinsville KY home or business. Get started today!
Your Deck and Pavilion Builder in Tompkinsville KY
After being in the portable building industry at Esh Utility Buildings for 20 years, Eshco was born to serve TN and KY with high-quality decks that can be installed with little hassle. Our goal at EshCo is not to be the cheapest deck builder in Tompkinsville KY. Rather, we strive for quality that gives you options and a very smooth delivery and installation process. Using top-quality lumber and then delivering your portable deck or backyard pavilion pre-built means setup time will be quick and your deck ready to use very soon! We look forward to serving you!
Amos & Mary Esh and family
Other Cities We Serve In Kentucky
Adairville
Are you dreaming of making your outdoor environment an amazing spot for fun, and relaxation or creating great memories? If you're looking for high-quality decks and pavilions, you've come to the perfect place. We build durable outdoor structures that will elevate your home and outdoor living experience.
Russellville
Are you envisioning a classic wooden deck or pavilion for shade and shelter? We offer a range of customizable options to suit your lifestyle and needs. We understand that you want to enjoy your new outdoor structure as soon as possible, that's why we are dedicated to completing your project efficiently.