Backyard Decks & Pavilions in Scottsville KY
Embrace and savor the beauty of outdoor living with our durable backyard decks and pavilions! Whether you require a deck for a pool, an RV deck, or a deck for your mobile home, we specialize in constructing decks and outdoor pavilions that can be delivered to any location in Scottsville KY.
Home Decks In Scottsville KY
For homeowners seeking ample outdoor space to relish, a personalized deck is a crucial feature. However, the overwhelming task of hiring a contractor, constructing the deck on-site, and dealing with potential damages can be daunting.
At Eshco, we ease these concerns by crafting decks using premium materials and paying meticulous attention to detail and quality. What sets us apart is our convenient delivery service, as we assemble the deck and bring it directly to your Scottsville KY home. This streamlined process eliminates most yard damage, granting you the desired outdoor deck without hassle. In no time, you'll be hosting family barbecues, socializing with friends, or simply unwinding on your splendid deck.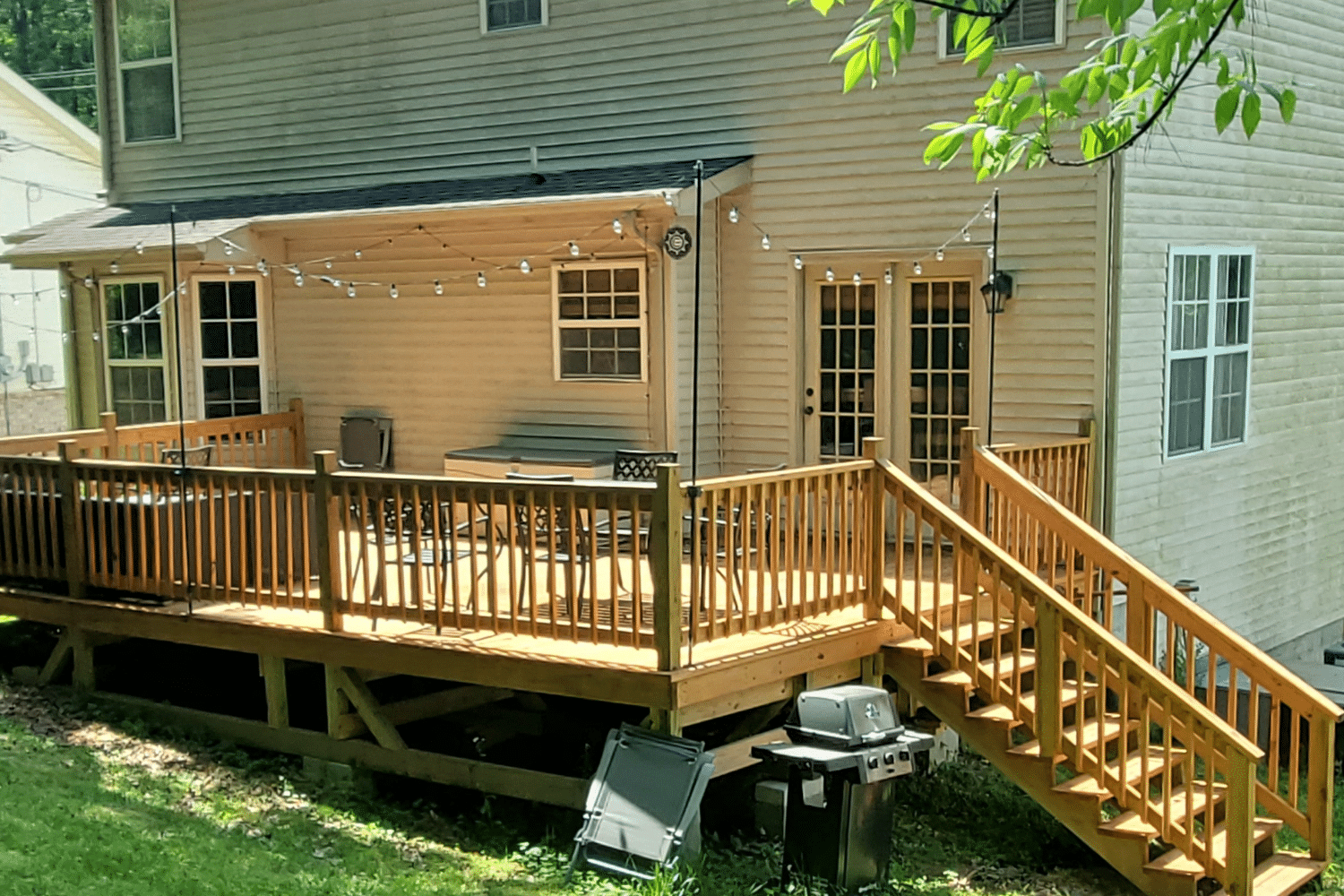 RV Trailer Decks In Scottsville KY
If you're an RV owner in Scottsville KY, having an RV deck as part of your outdoor setup provides convenient year-round access to your vehicle. Our thoughtfully designed RV decks not only extend your living space but also ensure a comfortable outdoor experience. Additionally, you have the flexibility to enhance your outdoor living area with accessories like tables, chairs, and even a grill, making it a cozy retreat for you to enjoy.
Adding to the appeal, our RV decks are not only portable but also arrive fully assembled and ready to use from the moment they are delivered. Rest assured, our decks are constructed with the unwavering EshCo commitment to durability and stability. When it comes to finding a deck builder that can provide you with a secure and steadfast platform for your outdoor relaxation, your search ends here!
Mobile Home Deck Builder In Scottsville KY
We understand that you already have plenty on your plate and hiring a contractor to build your mobile home deck shouldn't add to your worries. After all, mobile homes are designed to be mobile, so why not explore the idea of a portable deck specifically tailored for your mobile home?
Transform your mobile home's outdoor space with Eshco's inviting custom decks. Our expert team creates designs that seamlessly blend with your property, catering to your unique requirements and preferences. From layout to materials and finishes, we meticulously tailor your deck to elevate your outdoor experience. Remember, portability doesn't equate to compromising on quality or style – our decks are built to impress.
Above-Ground Backyard Pool Decks
If you are a proud owner of an above-ground pool in Scottsville KY, a meticulously designed pool deck is an essential addition. At Eshco, our pool decks are meticulously crafted to provide a safe and convenient entry and exit point for your above-ground pool. Additionally, they offer a dedicated space for you to unwind and supervise swimming activities from the comfort of your portable pool deck.
With our team of proficient deck builders, we offer hassle-free installation of preassembled, premium-quality decks. By choosing our services, you can fully embrace the allure of outdoor living and elevate your outdoor space with versatile and practical deck solutions. Experience the transformation and enhancement of your outdoor area with ease and convenience.
Outdoor Pavilions In Scottsville KY
Indulge in the sophistication and adaptability of our custom-built outdoor pavilions, which serve as charming structures ideal for relaxation, gatherings, and savoring the beauty of nature. With these backyard pavilions, you'll discover a multitude of benefits that will elevate your outdoor living experience to new heights.
Our portable pavilions are clearly far from being cheaply constructed or ordinary! Each one is meticulously crafted and custom-designed to cater to your individual requirements. Whether you require a pavilion for your residence or business, we specialize in creating the perfect space that allows you to embrace life to the fullest. With our tailored pavilions for sale, you'll have the ideal setting to enhance your enjoyment of life.
Our Deck Building Process
Whether you are looking for a portable deck for an RV, a mobile home deck, or a swimming pool deck, you begin getting a deck by choosing the size and style of your preferred deck. The process is very simple, get started today and we will work with you to get your portable deck installed in Tennessee or Kentucky.

We Measure
After a contract has been signed, we come to your location to measure your space to provide you with the right deck.
Delivery Day
Easy delivery and setup which shortens the time spent at your site. Usually in and out within a few short hours.
In-Stock Pavilions And Decks
While we can custom-build your deck or pavilion to meet your specific needs, we also offer in-stock and ready-to-deliver decks and backyard pavilions that can be delivered to your Scottsville KY home or business. Get started today!
Your Scottsville Deck and Pavilion Builder
After being in the portable building industry at Esh Utility Buildings for 20 years, Eshco was born to serve TN and KY with high-quality decks that can be installed with little hassle. Our goal at EshCo is not to be the cheapest deck builder in KY. Rather, we strive for quality that gives you options and a very smooth delivery and installation process. Using top-quality lumber and then delivering your portable deck or backyard pavilion pre-built means setup time will be quick and your deck ready to use very soon! We look forward to serving you!
Amos & Mary Esh and family
Other Cities We Serve In Kentucky
Adairville
Are you looking for ways to spend more time outdoors? Our prebuilt decks and pavilions are the ideal solution for outdoor activities. Whether you want to lounge, relax, or spend time with family and friends.
Tompkinsville
Enjoy the best of outdoor living with our expertly crafted decks and pavilions. Create lasting memories with loved ones in your own backyard with our outdoor structures. We offer different size options to meet your needs.