Backyard Decks in TN And KY
Do you live within a 100-mile radius of I40 N Tennessee or Kentucky and are looking for a portable backyard deck? At EshCo Portable Decks, we provide affordable customized decks! We understand the need to have a quality deck at an affordable price. From our listing page, you can find your desired size deck; our job is to customize it the way you love it! We have a selection of Vinyl or Wood with add-on upgrades if desired. We offer free delivery for the first 30 miles and then a charge of $4/mile after 30 miles. You choose your style, and we will get it to you!
RV Decks
If you park your RV or Camper Trailer for long periods of time, you know the need for a small deck to make access easy for your RV. At Eshco, you can find an RV deck that is portable and ready to use when it arrives!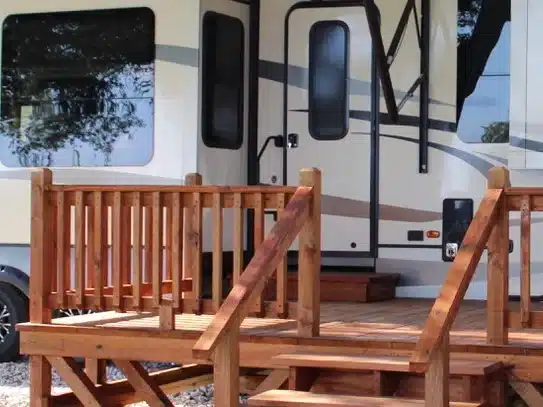 Decks for Camper Trailers
At EshCo portable decks, we have a selection for your camper trailer outside space. We provide decks that are made with our #1 graded lumber to wood or vinyl decks for easy use and low maintenance.
Portable Decks for Fifth Wheel Campers
You choose the size and design, and we handcraft and deliver it to you as desired. We understand the need for a durable deck for more outdoor living space and entertainment.
Decks For Mobile Homes
Select from our customized pre-built mobile home decks. At EshCo Portable Structures, we provide quality pre-built backyard decks for your home. For a more luxurious look, see our options and upgrades page. We provide upgrades for both vinyl and wooden decks.
Vinyl Mobile Home Decks
It has a shiny look and is easy to maintain! Yes, that is our vinyl decks. We understand that a deck isn't just a deck; it's a place for memories or storage! Whether your loved ones love to spill drinks from having a good time or it gets dusty, with this vinyl selection, you can be sure to get rid of those things with a low-maintenance cleaning.
Wooden Decks for Mobile Homes
We have thought about your need to have a deck for your outdoor space! Not any deck, a deck that is made with our #1 graded lumber wood. For a long-lasting time with strong quality.
Decks for Above Ground Pools
After a relaxing swim, we all need a nice sun-soaking moment. You can add accessories such as daybeds for more relaxation with your chosen deck style and design. We also understand that there are things that need to be considered with putting a deck for Above Ground Pools; that is why we have provided you with our portable decks. In addition to it, they're easy to install and uninstall.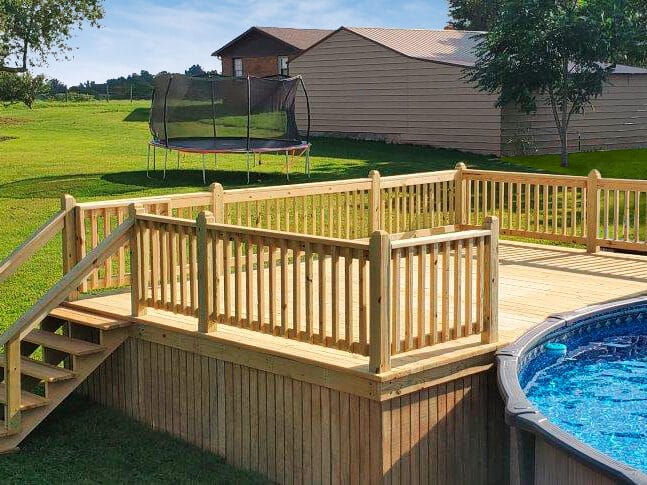 Decks for Round Swimming Pools
You can choose to upgrade your deck from our upgrades listing for more comfort and a desired final look. If you desire stains or spindles, we will upgrade your Round Swimming Pool deck for you! And if you want the deck to wrap around your pool, we can customize that for you here at EshCo.
Portable Decks for Square Swimming Pools
We can level the portable deck with your Square Swimming Pool. We can customize your swimming pool accordingly for more fitting and better access.
EshCo Decks Quality Features
Buying a deck that is portable does not mean that it is cheaply built! At Eshco Decks, we go above and beyond with features on our decks to build a very high-quality deck that will last a very long time. We offer decks that will give you decades of use and be installed in one to two hours! Here are some of the quality features of Eshco Decks.
Built with Screws
All screws have a rust-resistant coating
3-inch screws are used for floorboards
5 inch screws for ledger boards
Sanding the Deck Boards
Prolongs the life of your deck
Removes splintered wood
Better absorption of the coating
Heavier Decking
True milled 2×6 decking (not 1.5×5.5)
50% thicker than standard 5/4 decking
Durable & long-lasting floor
Router on Edges
Makes the edges rounded and smooth
Able to route the same exact cut over & over,
Smooth feel means fewer splinters
#1 Grade Lumber
Less knots means more structural integrity
We use top-grade lumber for your decking floor, rail, and structure
Deck Railings
Our rail sections are built on a jig for greater consistency
The railing is fully assembled with screws to keep the rails safe and sound
Customization Options for Our Decks
Not all portable decks are built the same. We offer customization options to make your deck work great for your specific accessibility needs or your taste and style.
Our Deck Building Process
Whether you are looking for an outdoor deck for an RV, a mobile home deck, or a swimming pool portable deck, you begin getting a deck by choosing the size and style of your preferred deck. The process is very simple, get started today and our deck builders will work with you to get your deck installed in Tennessee or Kentucky.

We Measure
After a contract has been signed, we come to your location to measure your space to provide you with the right deck.
Delivery Day
Easy delivery and setup which shortens the time spent at your site. Usually in and out within a few short hours.